The average life of a mattress is not more than nine years. Sometimes your mattress might age even early than nine years. Hence if you don't feel fresh after waking up in the morning its time to get a new mattress. Mattress shopping is not like normal shopping. A mattress is among the more important household furniture compared to others. Also, mattress affects your sleep quality largely. Mattress comes in many ranges starting from $100 to $5000. Therefore, make sure you are choosing your mattress with full care.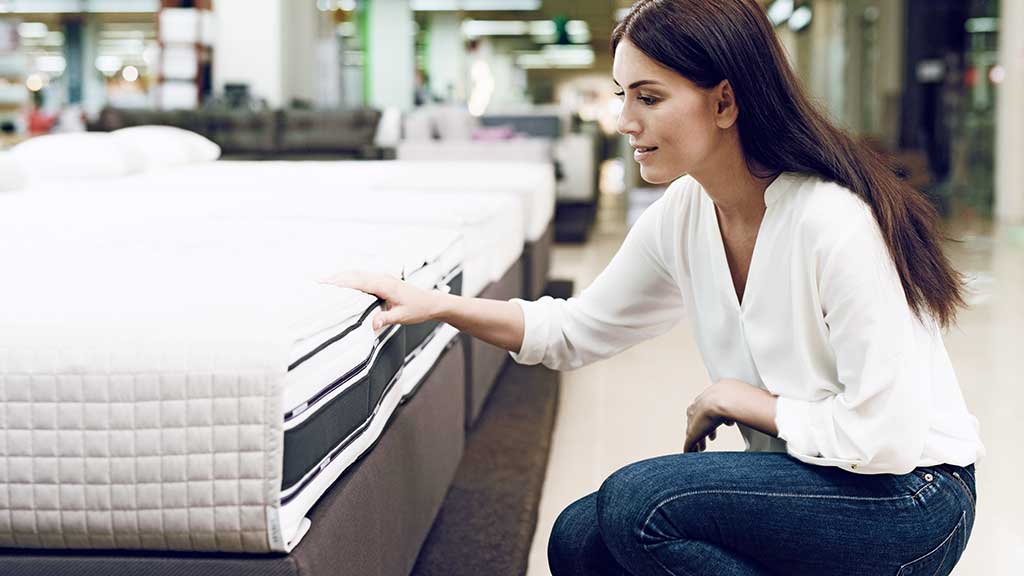 Before you go for mattress shopping, prepare yourself well. Take the help of online research and find out what are the standard mattress sizes? And what are the major brands selling mattress? And from where you can get best deals on the mattress?
Let's start with the important things to check while buying a new mattress for you
Mattress Type: Generally, a mattress is available in five basic types. They are innerspring, foam, hybrid, latex, and airbeds. Each type of mattress is known to offer a different feel and level of comfort. While looking for a new mattress it is important to find your preferred type of mattress. Every sleeper is different and so is their sleeping posture. Therefore, keep in mind your body needs and then pick one mattress type that you want to buy.
Check the manufacturing material: The comfort of a mattress depends on the material used in the manufacturing of the mattress. Therefore, mattress breaks down is an important thing to know before buying it. Mattress made with organic materials is more comfortable while sleeping than the just foam mattress or spring mattress. Some companies sell mattress with gel infused layers as well. Hence makes sure you are checking the mattress construction too.
Compare the Prices: Mattress price is a very essential factor to consider while buying a mattress. Fortunately, due to online facilities, you can compare the mattress cost on several stores and get access to hundreds of mattresses in one click. This is a great way to search your preferred brands at many affordable rates at your convenience. Moreover, you can buy a mattress online at 20% to 30% lesser cost than the offline stores.
Check for Online Money Saving offers: If you will check properly online, you can find much money saving opportunity while buying a mattress. You can sign up for newsletters or email list to get exclusive deals on your shopping at the mattress online stores. Few stores offer great deals like 20% off to 10 % off on the first purchase. Moreover, online coupons sites are also a great option to find amazing deals to save money.
Try Mattress Before Buying: A mattress is something who's comfort cannot be predicted unless you try it personally. Often, sitting or touching the mattress doesn't give you the full idea about the mattress feels while lying on it. Therefore, it is advised to try a mattress for at least an hour to find out how it feels while sleeping on it.
Enquire About Return and Refund Policy: A mattress is going to be a hefty investment therefore, its return policy and refund policy is a very important thing to consider. Generally, every manufacturer offers different policy and periods hence make sure you are reading the terms and conditions properly. However, many mattress companies offer at least 100 nights trial period, free return and easy refund policies for their customers.
Check the Warranty: This is one of the lifesavers in case you meet your mattress does stick to its expectation. Warranty periods is a critical part of mattress shopping. Therefore, read the terms well so that you don't void your warranty terms by any means.
Additional Cost: Mattress shopping can be a bit tricky if you don't have a clear discussion about the thing like delivery charges, labor cost, old mattress disposal cost, and a few more similar queries. It is better to ask a stupid question at the purchase regarding additional charges than regretting it later.
Final words  
Buying a mattress can be overwhelming sometimes. However, if you follow these tips properly, you can sleep restfully for many years to come. You will be amazed to find how your mattress can affect your sleep quality and improve your health. While picking the right mattress for you remember to check all here mentioned things and then decide on the one that satisfies the most.