Ifeanyi Ejiofor has commended Nigerians for speaking up and supporting Nnamdi Kanu with their voices.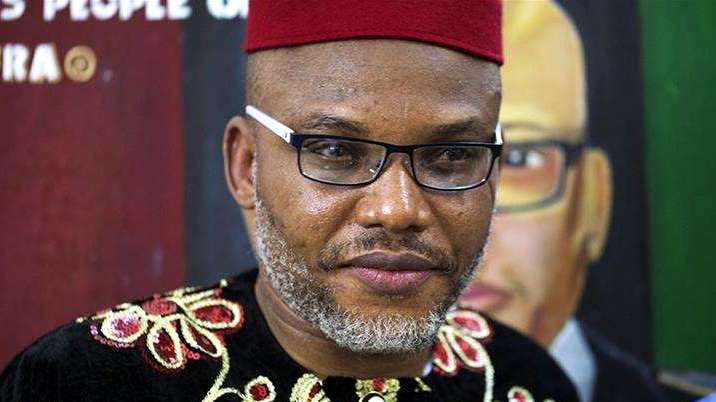 After he visited Nnamdi Kanu, he stated that the DSS officials who maltreated his colleagues have been replaced and a more reasonable officer has been put in charge of the facility.
This is contained in a message sent to Sahara Reporters by the lawyer.
On Thursday, Ifeanyi Ejiofor announced that his colleagues were treated with respect during a recent visit to Nnamdi Kanu.
In a previous meeting, he stated that his colleagues were abused by DSS officials and a suit has been filed in court in a bid to seek redress in the court of law.
Meanwhile, Ifeanyi Ejiofor stated that the official that allegedly abused his colleagues have been replaced and the new officer at the facility is a respectable person.
Furthermore, Emmanuel Kanu also visited IPOB leader, Nnamdi Kanu on Thursday.
During his visit, Ifeanyi Ejiofor alleged that many things were talked about but Nnamdi Kanu was particularly happy that the lawyers did not experience any difficulty during their visit.
While Nnamdi Kanu is set to appear in court very soon, he urged his followers to remain calm and prayerful with the hope that the IPOB leader would win in court.
Part of the statement read; "I and my other colleagues visited IPOB leader in DSS custody. We were treated in a very different way and Nnamdi Kanu' s brother was allowed to see the IPOB leader without any problem. Our visit to the Nnamdi Kanu was in line with the guideline given to us by the court. Nnamdi Kanu is healthy and he is convinced that he would win the case in court at the right time. "
"We had a lot of discussions and we talked about the recent incident in the country. He is happy that his supporters are behind him and he appreciates everyone. We are happy that there is a change in the treatment of our colleagues compared to the way they were treated during a previous visit. We will not waste time to let the people know when the rights of our people are being abused."