Teewhy Homes has embarked on two new projects (LUSH GARDENS ESTATE and AMBASSADORS COURT) to help its' clients in achieving their Real Estate investment goals.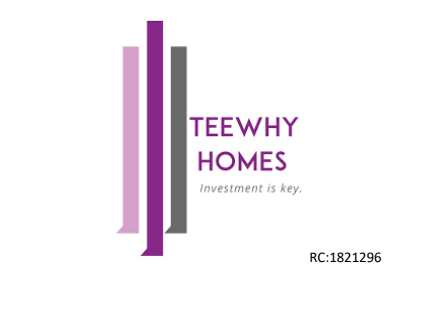 Credit: Teewhy Homes
Teewhyhomes has created investment opportunities in Residential and Commercial Development through its' estates.
Teewhyhomes Consulting Limited is one of the leading Real Estate Company in Nigeria. It offers endless investment opportunities for clients that might be interested in making their Real Estate Investment goal a reality through a sustainable home acquisition.
Teewhyhomes offers a great value to customers through its' services.
One of the ways to secure or have a great yielding/ Returns On Investment (ROI) is by investing into lands and properties. It is no doubt that the value of land increases in few years and flipping lands or properties is the best way for wealth creation.
THE BENEFITS OF INVESTING INTO LANDS IN LUSH GARDENS ESTATE AND AMBASSADORS COURT ARE: THERE IS PROSPECT OF INDUSTRIALIZATION.
PRIME LOCATION. PROPERTY APPRECIATION. MASSIVE RETURN ON
INVESTMENT. ADVANTAGE OF HOLDING OR FLIPPING. COMMERCIAL
HUB. INVESTMENT SECURITY.
NEIGHBOURHOOD: ELEKO JUNCTION (15 Minutes' drive), PAN ATLANTIC UNIVERSITY (13 Minutes' drive), ALARO CITY, GATED ESTATES, PROPOSED FOURTH MAINLAND BRIDGE (3 Minutes' drive), DEEP SEAPORT, NEW LEKKI INTERNATIONAL AIRPORT.
FACILITIES: GATED & SECURED ENVIRONMENT, PERIMETER FENCING,
GOOD ROAD NETWORK, STREET LIGHTS, GOOD DRAINAGE SYSTEM,
RECREATIONAL AREAS, ELECTRICITY, GARDENS & LANDSCAPING.
Buy 5plots and get 1 free
To book an inspection with Teewhyhomes via WhatsApp, Please click https://wa.me/message/2TE7IDXDW24SD1